Environment and Our Lives
This exhibition is held at Nagoya City Science Museum at Nagoya City in Japan.
Purpose of the exhibition is that there are no animals that inhabit such diverse environments as humans do. By comparison with other animals, humans have by far the better ability to adapt themselves to or change their environments. Wisdom to cope with a stern environment can be seen in people's life. We can find various ways of life adapted to the environments of places in clothing, foods, dwellings and so on.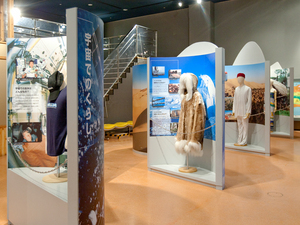 Please click here to see more information
Climate Change Exhibit – NJN News Science & Technology Report
A new exhibit at the State Museum brings to life New Jersey's distant past, revealing the interplay of climate, habitat and life over vast stretches of time.
For more news and events in and around New Jersey, visit NJN's website at http://www.njn.net

National Science Museum, Rangsit, Bangkok, Thailand
The National Science Museum in Rangsit, just north of the capital, is spread over six floors and aims to be a thoroughly modern hands on experience, each floor is open plan and stuffed with a diverse array of exhibits which are mostly marked in English as well as Thai helping to make it as an interesting experience for the non-Thai adult as it is to the local student and at 60 baht it is good value. There is also a cafeteria and gift shop. Each of the six floors has a distinct theme, kicking off with Pioneering Scientists which explores the work of early thinkers. This floor also has several high-profile exhibits that focus attention once one enters the complex, including a full-size cutaway "hybrid" Toyota Prius.

environment museum
TV campaign for Clean Up Climate done by the advertising agency DDB Worldwide